BDD Pharma – Delivering Breakthroughs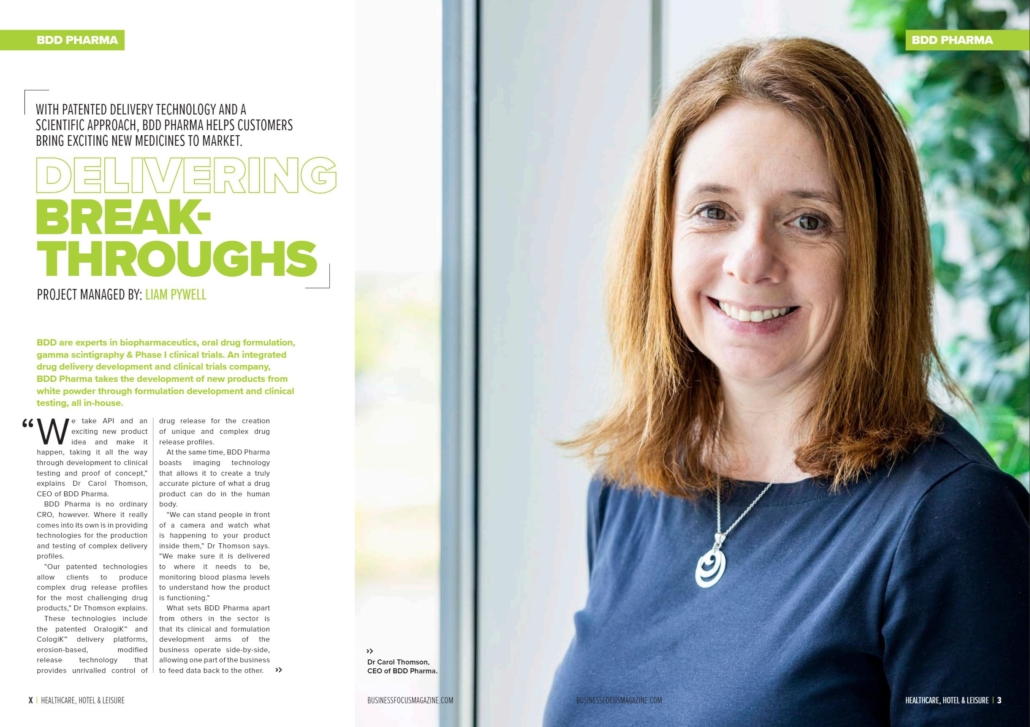 BDD Pharma is transforming the landscape of pharmaceutical development with its innovative delivery technologies and comprehensive scientific approach. Specializing in biopharmaceutics, oral drug formulation, gamma scintigraphy, and Phase I clinical trials, BDD Pharma stands out as a pioneer in the industry, guiding new medicines from their initial concept to market readiness.
Under the leadership of Dr. Carol Thomson, BDD Pharma excels in its field by offering patented drug delivery platforms, such as OralogiK™ and CologiK™. These groundbreaking technologies enable the creation of sophisticated drug release profiles, particularly for complex pharmaceutical products. The company's capabilities extend to imaging technology that accurately monitors a drug's behavior within the human body, ensuring effective delivery and function.
Unlike typical Contract Research Organizations (CROs), BDD Pharma synergizes its formulation development and clinical trial arms, allowing seamless feedback and data integration throughout the development process. This cohesive approach propels them forward, as they handle everything in-house, from the formulation of the active pharmaceutical ingredient (API) to clinical testing and proof of concept.
Complementing BDD Pharma's impressive technical prowess is Castor, a tech-forward entity established in 2012, which focuses on enhancing clinical trial management through an integrated platform. Castor's commitment to innovation, demonstrated through its API-first strategy, modular Decentralised Trial platform, and incorporation of AI, has led to partnerships with industry leaders like BDD Pharma. This collaboration facilitates the efficient execution of patient-centric clinical trials across the globe.
This year, BDD Pharma has fortified its resources with an additional £2 million investment aimed at expanding its patented technologies and clinical trial services. With financial backing from Archangel Investment, Scottish Enterprise, and the British Business Bank, the company is set to enhance its GMP manufacturing and clinical trial capabilities. This influx of funds is a testament to BDD Pharma's growth trajectory and its unwavering commitment to developing best-in-class pharmaceutical products, underpinned by robust safety trials and formulation advancements.
Central to BDD Pharma's success is its expert team, whose proficiency is continuously nurtured through internal and external training programs, fostering a knowledge-rich environment conducive to innovation. The company's culture, described by Dr. Thomson as familial, is rooted in engagement, shared vision, and collective ambition, making BDD Pharma an attractive employer and a formidable force in drug development.
With a clear focus on remaining at the forefront of drug delivery research, BDD Pharma is poised to redefine medicinal development, leveraging their agility and transparency to not only meet client needs but exceed them in a fast-paced industry.


https://www.bddpharma.com/wp-content/uploads/2023/02/bdd-logo-new.svg
0
0
Calum Stevens
https://www.bddpharma.com/wp-content/uploads/2023/02/bdd-logo-new.svg
Calum Stevens
2023-11-08 10:32:08
2023-11-08 11:29:24
BDD Pharma – Delivering Breakthroughs